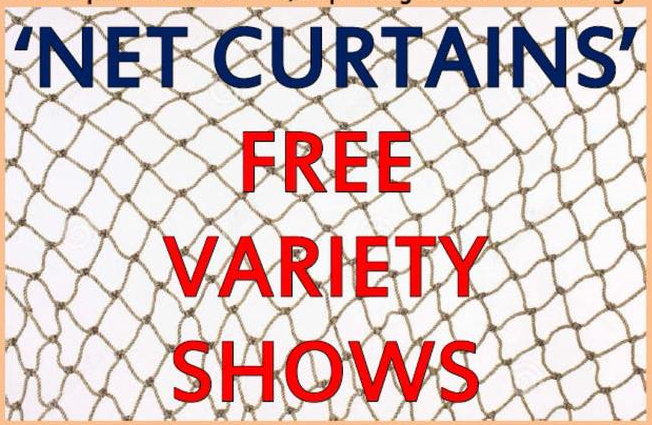 'Net Curtains' Variety performances
Free event – All Welcome
Variety performances for all to help combat isolation, and improve health and well being.
2.00pm start
Tuesdays: Hull Community Church, Newland Avenue
Wednesdays: The Freedom Centre Hull, Preston Road
Thursdays: Kardomah94, Alfred Gelder Street
For more information contact:
Screen@Kardomah94.com
or call: Mal on 07831 365390 or Sarah on 07568 174825

Summary
A pilot budget has been provided by Help for Health for three venues to host over three months (or so) an event a week. The variety events are entertainment provided by regional music, spoken word, film-making and performance talent.
The intention is to engage with parties who are at risk of isolation from social contact and their supporters/carers by providing something to look forward to and the means to attend the event and return home. Attendees will be encouraged to visit all venues over time for added experience/interaction.
We will work with venues, community and private transport, charities and care providers to have the widest welcome to those who will benefit from the opportunity. The improved health and wellbeing from having something to look forward to and enjoy can hopefully be assessed.
The inspiration has come from working with John Oliphant, who is seeking to represent the risk of parties falling through the 'Net' of social and care support. He is creating a physical net from fishing twine. Visitors will be encouraged to tie a knot in a physical net that will represent that there is growing community support.
Background
Through previous work with the Hull Kingston Rovers Charitable Trust I met John Oliphant who has some learning and physical difficulties. He wanted to promote support for those who fell through the 'Net' of community and social care support. His genius was to use an actual physical net to highlight the issue and encourage those who needed support to physically knot the net to represent the support that had been given. The net would grow over time as more people were supported.
In the meantime the cultural activities within 94 Alfred Gelder Street and the promotion of the 'cultural economy' gave an introduction to performers in many sectors of cultural activity.
The basic premise is that the unintentional consequence of the restriction of funding to support those with learning, mental and physical difficulties increases the risk of isolation. Without funding and/or events and/or the ability to travel, there is a risk that those slipping through the 'net' of support then become further isolated. The longer term consequences may need far greater investment at all levels of intervention. Linking the region's cultural talent with an audience that would otherwise not venture out could have great potential.
Location
The problem is not location restricted. Isolation may have different factors in rural, village, town and city environments but the same feeling of isolation will be experienced. This pilot scheme will assess the impact and ensure that investment is made in the most effective fashion.
Proposal
We will organise weekly matinee variety events for those who may be otherwise isolated at The Community Church, Newland Avenue, The Freedom Centre, Preston Road and Kardomah94 in the City Centre. Those attending will be helped through laying on transport or helping organise support, perhaps fitting events in with existing transport timetables.
The events will encourage cultural endeavour and be a range of craft, theatre, history, music, film, writing, education etc., provided by regional talent. There are collaborative opportunities with health and social care organisations and charities.
Pilot
The physical net could be a consistent/regular theme, building relationships and encouraging confidence building. A film/sound presentation could be created and may be regularly used to help promote the concept.
The groups of participants, once used to enjoying the events, may then be encouraged to venture to other performances at other locations thus further combatting isolation pressures. Interaction between the city and other centres and the more rural region will be encouraged.
Transport will be a different issue at different locations, be it providing specific transport or supporting transport costs from and to centres of care and support if more financially viable.