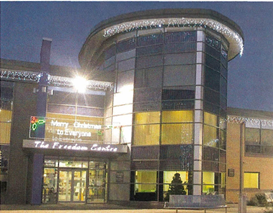 EMS Yorkshire, a new charitable company to tackle neighbourhood I management, was formed. Its chief executive was former PRNDC Director . of Neighbourhood Management Jan Boyd. EMS staff are joined by Hull City councillors, police
and wardens on walks across. Southcoates East to check out problem areas. These have been praised as best practice at a national level.
Research published in 'The Fall and Rise of Preston Road" this year showed concern from residents about the
future. Even the most negative of interviewees acknowledged that PRNDC had brought about a great many positive improvements to the area. They did not want the estate to fall back to where it had just been
prior to the PRNDC's arrival. December: There was a Christmas ' welcome to the Freedom Centre, with a festive market and other entertainments.