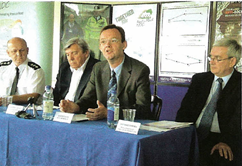 This ll-week summertime blitz on anti- social behaviour and community safety started in June. The activities included environmental- clean-ups, the introduction of a youth bus, promotion of new Connexions cards
– a loyalty scheme for teenagers which provides proof of age – use of a community playbus to entertain young children, education in schools by paramedics and fire- fighters, high-visibility policing including the use
of a community copshop, truancy sweeps, a crackdown on under-age drinking, and drugs raids. Two publications were also produced – a residents' guide to tackling anti-social behaviour and a witness support package.