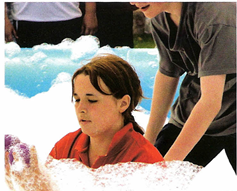 New Start, Regeneration Magazine, 6 May 2005: "One thing which sets Preston Road apart is the degree to which it employs local people. Most NDCs have a staff of nine or ten. At Hull, there are 250, around half of them local residents. It was decided to run as many initiatives as possible in-house rather than contract out. "This has enhanced the sense of community ownership," says (managing director) Richard Davies, "provided employment, boosted the local economy, brought me close to residents and turned staff into ambassadors for the estate."
The .£ 1.8 million E~st Hull Centre for Horticulture opened Its doors on Nursery Grove, off Portobello Street. Yorkshire Forward, the regional development ft-agency – a £200,000 grant
for construction traininq workshops.
Yet another award – The .Children's Centre scooped the community benefit 'category of Yorkshire Urban Renaissance Awards presented by Yorkshire Business Insider magazine in
June.
It's a Knockout in June was one of the fifth anniversary celebration events which brought the Preston Road community together. The Police team was victorious but it also involved Child Dynamix, Hartlepool NDC and local community groups.