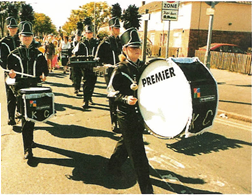 The Government gave funding for early proiects to help us" with our planning work and it – was the year for many visitors. –
The community consultation process continued in February public meetings, Citizens' Juries, the Community Carnival
in August and elections for Partnership Board in September.
January: Richard Davies is appointed as Regeneration Manager and Julie Murrey started as administrator. By March, they were joined by Janet Harris, a consultant who began researching the baseline statistics about the area.
March: Isaac Newton School Council pupils met Hilary Armstrong, the Housing Minister, on her visit to the area. Kerry Clixby, 12: "I'm quite young to get involved in something like this but by the time the regeneration's completed, in 10 years' time, I'll be older and living in my own house."
Hilary Armstrong said: "We believe the key element in delivering lasting change to some of our poorest neighbourhoods is actively involving the community itself. The best solutions are achieved through partnership and residents must be given a say in the regeneration of their communities."
The first PRNDC logo, which was created from a design by Natasha Newton, a pupil at Southcoates Primary
School.