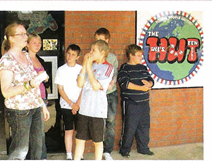 March: The Street Champions programme was started, run by resident Rita Butler, with the aim of recruiting residents to report which concern them. In July, Preston Road's long-awaited youth facility was opened on the site of the former library. The Hut, as it was to be named, was greeted enthusiastically. The very first issue of
Preston Road life reported Kayleigh Chadwick's reaction: "This is what we wanted, a good place for everyone to chill out.". The youth centre ' boasts a quiet room, a TV area.
– August: A week-long Freedom Festival was staged to offer more variety to the summer flagship event, focussed on the Village Centre. In November, John Prescott was joined by Elaine McMahon, Principal of Hull College, and Richard
Davies of PRNDC to officially open the I Construction Skills Centre at Nursery Grove.