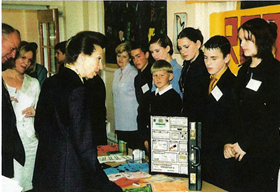 July: The Princess Royal visited to launch the work of the Hull Youth Inclusion Project. Resident Youth Director Kevin Grantham said: lilt was a pleasure to have someone so important to come down and give us a pat on the back. She was very positive and encouraging about the work here." The Princess also met members of the estate's Women's Centre, Youth Jury, Fishing Club and Cascade, a peer-led drugs education scheme.

In September, the Additional Policing Team consisting of one sergeant and three constables was formed to address
the main concern about residents feeling safer in their homes. They were to subsequently link and work with a team of community safety workers and housing staff on issues such as anti-social behaviour.
October: Don Smallwood became chairman of the PRNDC Board.
The Year Two Delivery Plan Update reported youth crime down, 350 women accessing the Winner Project, two pilot breakfast clubs proving popular and 25 people saving through a new Credit Union.