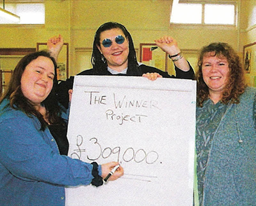 16 prejects were underway and we started to become more visible across the estate.
In January, 15 months after being set up as an early-win project under New Deal, the Preston Road Women's
Centre – Winner – received a £300,000 boost from PRNDC to improve on the services already on
offer.
March: Regeneration Minister Hilary Armstrong returned to Preston Road two years after her first visit,
to launch the Community Safety Unit, a team recruited to tackle environmental problems, vandalism and graffiti. She said: "This is a community-led project and many of the initiatives that are up and running such as the After-School Club, Breakfast Club and the Community Safety Unit that I launched – have all been created with an input from local people.

" The Minister also unveiled a plaque at the After-School Club in memory of Janet Genter who helped set it up. She also viewed environmental improvements to the Waterway and visited the site of the proposed Preston Road Village Centre.