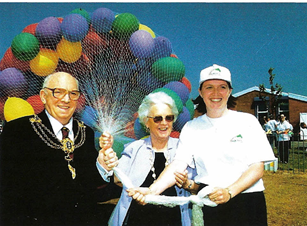 Childcare had been cited as a major need on the Estate and a new community nursery was developed in partnership
with Hull College. The facility was opened in June 2001 and named after campaigner Janet Genter, who had died
in 2000 from cancer. The Nursery offered nine places a day to children aged 12 weeks to two years, and 1 6
places for 2-5 year olds. It was to be part of a network of facilities around the Estate.
Planting a tree to mark the official opening of the Nursery at Flinton Grove, Lord Mayor Councillor Fred Beedle said: "I am truly grateful to have been invited to see this magnificent achievement. The community workers have thought of everything. It is really nice to see something like this on the Estate and I have
nothing but admiration for them."