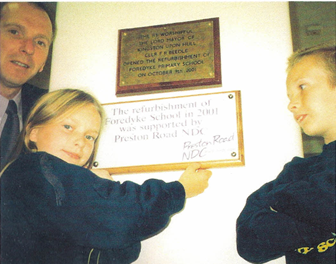 foredyke School celebrated the completion of £200,000 of refurbishment which saw the refitting of classrooms,
an IT suite, a new reception area and structural improvements. lord Mayor Cllr fred Beedle officially announced
completion of the work and said: "1 8 months ago, the school went into special measures. It has now been brought into the 21 st century and will now go from strength to strength."
An 1 l-strong Taskforce was recruited and took to the streets in November. Their role was to be a bridge-builder between the community and the work of PRNDC. They would also promote the help available through campaigns such as
National Warm Homes Week, and launch a community membership card scheme.
Health issues were also gathering momentum. A unique project called Support Not Pills was started to help residents come off anti-depressants and find the root cause of their problem.