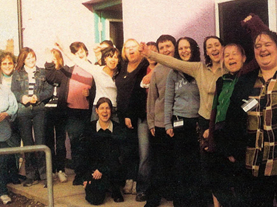 The year of decisions over plans for a new village centre for Preston Road, for environmental improvements, a
BMX park and play areas, as well as employment and training schemes. January saw the unveiling of a £90,000 play
area for local children at the Regeneration Centre, the first play facility on the Estate in years.
Deputy Prime Minister John Prescott returned for a ceremony to announce plans for a multi-million pound
"village centre" on land at the centre of the Estate. The facilities could include a healthy living WORKJ.\G TOGETHER TO CREATE A BETTER FUTURE. centre, college, offices, shops and a police station.
In February, Winner – the two- year-old women's project – moved into larger accommodation on Preston Road. The Centre had a team of 30 staff and volunteers. March: The European Social Fund awarded PRNDC £546,000 to help fund nearly 100 job opportunities in IT, construction, catering retail and administration.