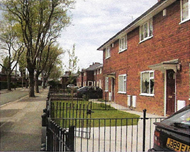 1 Pupils from Foredyke Primary School were the guests of Harrods' owner Mohammed AI-Fayed in London after he agreed to host a visit by Hull's Children's University, the out-of-school literacy scheme. April saw the start of a £7 million programme of environmental improvements to 1000 homes, providing facelifts and fences to gardens.
Foredyke Primary School became the first in the country to screen its pupils for dyslexia, in a joint venture
with PRNDC and the Dyslexia Institute. Some 38 pupils were identified as having the condition, which enabled the School to take steps to help the youngsters.
BBC regional television presenter Helen Philpot opened the UK Online computer suite at the Regeneration Centre. Later in the year, it was named the best in Yorkshire and the Humber by the Department for Education and Skills. It was judged on marketing, collaboration with partners such as Hull College, accessibility plans for people with disabilities, and teaching. It was used by people of all ages, including the "golden girls" (pictured), older residents who came to learn together.
Ivan Lewis, the then Minister for Adult Learning, said: "UK Online centres like Preston Road help people take their first steps into the Internet world and an opportunity to learn new skills."