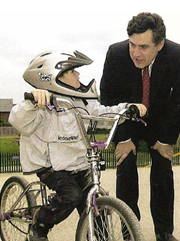 Two Cabinet heavyweights came to visit the progress on the Estate in October. John Prescott brought the then Chancellor Gordon Brown, who met residents and staff. He said: "I've seen how PRNDC is encouraging people to gain new skills and the potential here for more jobs. The Government should be enabling and empowering, not directing and controlling. Preston Road is a model for the rest of the country."
November: In another key step for the regeneration programme, Preston Road NDC was renamed the Preston Road Neighbourhood Development Company, now a registered charity which would provide status to make it easier to bid
for funding.
Another Coronation Street star visited the estate at the end of ~.~ 2002 when Tina O'Brien, who
played Sarah Lou, came to European Social Fund-backed initiative to equip 1000 households with internet access.
The scheme would use PCs built by residents on the Computer Build course at the Maybury Road site. Sarah Lou had been a victim of internet chatrooms and she also launched a safe-surfing scheme for youngsters.
"It's a really good idea to provide a service like this, with the massive learning library that the Internet offers. Computers are also really expensive so anything that helps like the Preston Road NDC Wire IT idea can only benefit residents."