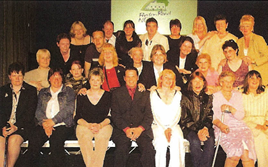 It marked the exciting start of building the Village Centre with different partners signing up, plus the busy year
saw celebrations for community spirit and learning.
January: A snowy Preston Road estate saw John Prescott return to launch building work on the proposed £20 million Village Centre with the first development to be a childcare centre. Joan Summers, a former PRNDC board member
who had missed out on digging the first turf at the Solution Centre, did the deed this time. "I want to put the foundations in now. It's very exciting now that it's finally happening," she said.
The Police signed up to build new premises for its neighbourhood policing team in tho Proston Road area.
The first-over Preston Road mmunity Celebration was held at the University of Hull in April to commemorate unsung heroes. Some 14 residents were recognised, from a 77-year old who ran errands for fellow residents at Mulberry Court to someone in their 20s nominated for running a football team.
In June, symbolically, the Solution Centre on Preston Road closed down to make way for construction work on the
Village Centre. Meanwhile, the Estate's first community house, Craven lea on endeavour Crescent, re-opened its doors after refurbishment.