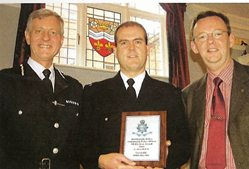 The installation of a 1000-strong network of computers across the estate was complete, under the Wire IT Project.
Recipients had a choice of payments, cash or volunteer hours.
More building work started at the Village Centre with the first new-build police station in Hull for 20 years. This one on the corner of Aldborough Grove, was to become the headquarters of the Southcoates Neighbourhood Policing Team. Construction also started on the first retail unit, to be taken by The Co-operative.
October saw the second park and play area to be created by PRNDC. The £250,000 John
Hadland Park at St John's Grove was named in memory of a PRNDC Board member who had been keen on developing activities for young people. His widow Christine was joined by the Lord Mayor of Hull Councillor Ken Branson for
the ceremony, who declared: "John was dedicated to this area and he'll be looking
down on us, he'll be a chuffed lad".
Preston Road's local bobby PC John Legard was named Humberside Police Community Policeman of the Year for
2003. Chief Constable David Westwood said: "This is a tribute to the force and to Preston Road."
John had served the area for six years.