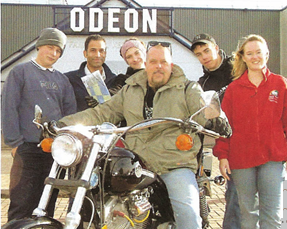 A video produced by the Preston Road Motorbike Club video was premiered at the Hull Short Film
Festival, at the Odeon in the city I centre.
There were celebrations at Foredyke Pri mary School when Ofsted was taking it out of "special measures". The then
Headteacher Paul Carlile was ~ nominated as regional headteacher of the year. December 2003 ended on an educational high with community learning awards to mark the achievement of some 50 residents on the many courses organised
on the Estate. The ceremony took place at Craven Park.
December: The true extent of debt on Preston Road was revealed through PRNDC's Financial Exclusion Project. £ 1 million was being repaid by residents to doorstep lenders. This story, which first appeared in Preston Road News, was picked up by the Mail, then Yorkshire TV's Calendar, News of the World and GMTV!
The month saw the formation of a group of 18 first responders who were trained up to "jump-start" a heart. This was the focal point of the Community Paramedic project, under the supervision of new face Ron Wilkinson.